Expert eForm Design Team
Victoria Forms' eForms are designed within in an extended version of Microsoft Word. Being based in Word, it is very easy for anyone to learn how to create online forms. However if you and your staff do not have the time to design eForms, our expert (and friendly!) team can take on the task for you. We will work with you to create great looking, smart online forms that meet your specifications, and surpass your expectations.
How we work: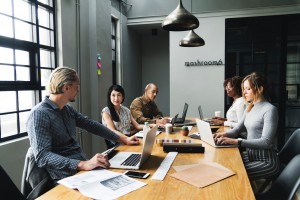 • Send us a copy of your existing form(s), or an outline of the form(s) you want us to create.
• We will analyse your requirements, providing guidance on best practice in design and user experience. We can make recommendations about what can be achieved when a flat form is turned into an interactive, intelligent form.
• If useful, we can also assist with consolidating your whole form library – very often, if designed well, multiple forms can be combined to produce a single form, that intelligently adapts its behaviour according to the use context.
• We will provide a preview of a form, with a range of choices around overall styling, for you to select what you feel works best for your organisation.
• We will then build a working version of a form for you.
• You will have access to the form as we work. And you can make comments, criticisms, and suggestions. Our design team will then make changes, presenting you with the amended version for you to review.
• When you are happy with the form, this can then be published online on your forms system for your end users to start filling. Any useful feedback from end users can be incorporated into the form.
• With the design principles that you have approved, we will then work through further forms to create a full library of smart, great looking eForms.
Ongoing Changes
We provide super responsive support and make any changes you require often within 24 hours.
Moving Design In-House
You will be provided with the source files and if you wish, you can bring the design process in-house, allowing you to maintain and edit forms yourself.
Design Training
Our team can also provide remote or on-site design training for your staff, on the use of our eForms design software, along with guidance about making the best use of the software.
Get in touch today to find out more.